In Iloilo City, where the drivers are half-decent, the food is scrumptious, and almost everybody is fabulous, it is very difficult to find anything that can get your temper to flare and make you want to devote yourself to the destruction of all things.
However, Iloilo Supermart employees, with their condescending tone and attitude that can only be rivaled by government employees (yes, I'm talking to you, BIR) always manage to do that. You come into the store, full of life and laughter and the promise of a good movie after getting some essentials, like cheap bottled water, and you come out mad as a hornet who has never had a boyfriend.
They're very talented, these people. They should be on a show.
The point I'm making, though, is the only thing that can get me to calm down after an encounter with a creature from any branch of this so-called pride of the Iloilo grocery industry is to plop down in front of a screen and see zombies and undeniably stupid horror movies.
Then, after watching, I not only feel better about the state of things in this city of love, I also feel quite scared because no matter how stupid a horror movie can get, I have this small twinge deep in my heart that one or all of those things can come true.
Yes. I'm a baby with an attitude.
Anyway, with hundreds of horror movies and countless sleepless nights, I'd like to share some that still gets me to think and double lock my door.
Number 3.
Undin.
Dunno if anybody has heard of this cute little gelatinous monster from a lake, but if you haven't, here's a bit of info. Undin is a character in one of the more entertaining Shake, Rattle & Roll movies (i.e. the ones done the past decade). She is this icky tiyanak looking creature that has more charm than an Iloilo Supermart sales person (sorry, couldn't help it). Anyway, the movie's main character played by Manilyn Reynes takes some eggs from a visit in the lake which turns out to be the Undin's babies.
So she follows her to the city and hides in the toilet bowl and kills almost everybody. No need to go into specifics as the mere mention of that already seems to be too ewww.
Nonetheless, I fancy I saw her once when I was living in our old house and I still remember her when I 'powder my nose'. I don't get scared of her coming out to get me, anymore, though. I mean, that was, like, ten years ago and she resided in a different island.
So there's no way she can come to Iloilo, right? Right? Why don't you answer me?!
*sigh*
Number 2.
Cujo
. Stephen King's creation, Cujo, is a dog that went on a killing spree. I think he may have been given food my sister cooked. Kidding. He would've died had that happened.
First time I watched this I got so scared I got sick and slept for 18 hours straight. That was one mad dog. I've never seen it again since. Don't ask me to.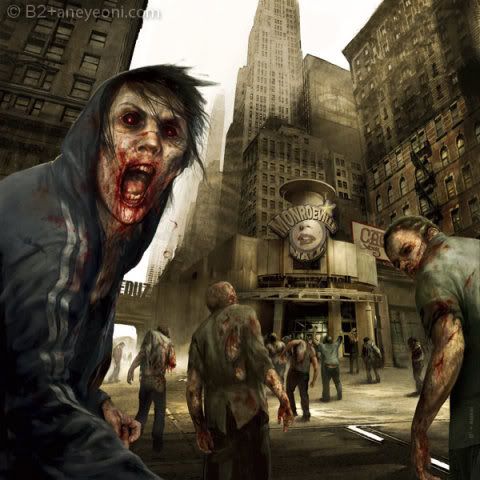 And
numero uno
. Of course,
Zombies
. They are both my delight and my greatest fear. I love watching zombie movies almost as much as I hate feeling scared when planning for my hiding place should the dead decide to feast on the flesh of the living.
They are fascinating, eww-y, and one of the most entertaining characters ever created. George Romero should have a prize for this. Wait, he already did? Congrats, then.
So there. Flashbacks for some, huge laugh-trip for others. That's okay. We all have our weirdness. Mine is just more possible.
PS. Leave a comment for your own list of things that are ridiculous but you're scared of. And if you laugh at my list, that's cool. I'll just ignore you when the living dead is the dominant power in the world and I'm off to my secret hide-out that can withstand any attack from any and all zombies.